Pipedrive - a great CRM for travel agents and event managers
Intellibook offers out of the box, seamless integration with Pipedrive, a great cloud-based CRM tool for small businesses.
We spent countless hours (so you wouldn't have to) hunting around for the best modern CRM system to offer our first CRM integration with. Something entry-level (in terms of cost and learning curve) but still capable, scalable and (last but not least) a great fit for travel and event management SMEs.
Pipedrive really did stand out from the rest!
Video - how to get set up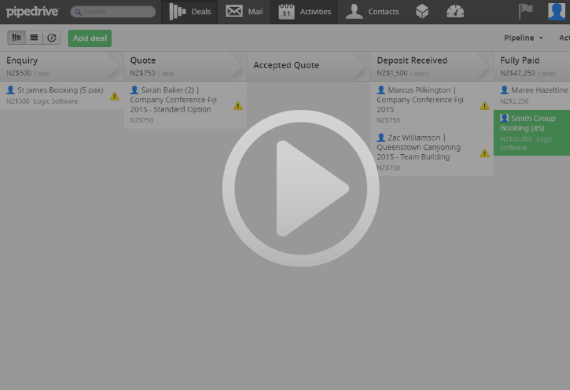 What is Intellibook?
Intellibook is online tour and event management software for travel agents.
With it, you can:
Track suppliers and inventory (flights, hotels etc.)
Manage bookings and related information, generate confirmations etc.
Create an online portal for your customers to see details about their booking and upload/download additional detail and documentation.
Create an online website and registration form, or integrate it with your own website.
Facilitate wholesale (3rd party agency) sales including a designated portal for agents.
Automatically generate (and regenerate) booking invoices and take online payments.
Case Study:
"Stop wasting time looking for the right system and look at Intellibook"
Steve Pirie

, Unleashed Grad Trips